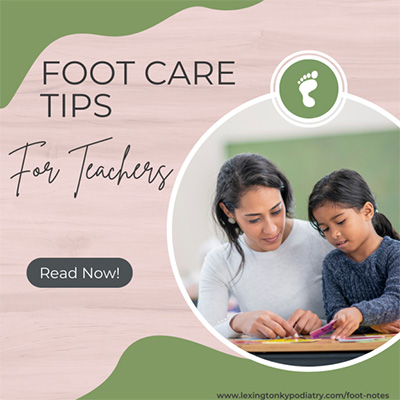 Teachers are some of the busiest professionals around. As a teacher, you spend your days on your feet. Whether you're standing in front of a class or walking around the classroom helping students with their work, your feet take a beating. It's important to take care of them so they don't get sore and tired. Here are some tips for taking care of your feet.
Wear Supportive Shoes
I would love for all teachers to be able to wear a supportive pair of tennis shoes such as Brooks or Asics, however, most dress code requirements prevent this. Sometimes the school will accept a note from the doctor saying that you must wear tennis shoes, but if they don't, there are sensible dress shoes you can wear. My favorites are Clark's and Anne Klein iFlex. These shoes are not super flexible and a more supportive than your average dress shoe. No matter what dress shoe you wear, follow these general rules:
Avoid stiletto heels and instead opt for a wedge or "chunky" heel.
Avoid shoes that are pointed. Look for a more square toe box to give your toes room.
Avoid backless shoes. Wear shoes with a backstrap to give your rearfoot stability.
If wearing tennis shoes is not an option, I highly recommend that you keep a pair of tennis shoes in your car just in case you have a long walk across campus or stop by the grocery store after work. Wear your tennis shoes during these high impact times and change back into your dress shoes when you are done.
Custom Orthotics
Having a pair of custom orthotics is crucial for your foot health as a teacher. Those concrete floors that you stand on all day are unforgiving and can cause back, knee, and hip pain in addition to foot pain. A custom orthotics is designed specifically for your foot and will provide you with the most correction support and cushioning.
We place many teachers is a cork orthotic. Cork is an open celled material that is great for shock absorption. It is like walking on a cloud, making it ideal for teachers who stand on concrete all day long. And don't worry, we can make an orthotic that will fit in dress shoes too!
The casting process is quick and simple. There are 3 techniques we use to cast for orthotics: plaster, foam casting or electronic scan, making sure we capture your arch height. Which technique we use depends on your foot type and will be determined at your appointment.
Orthotics are billable to insurance, depending on your specific policy. If your insurance does not cover orthotics, we have alternatives in our office. All of the long-term benefits of reduced pain, slowing the progression of foot conditions and keeping your foot in proper alignment are well worth the cost. We do understand that cost can be an issue for many people and therefore offer flexible payment plans to help alleviate any financial burden.
Ice any soreness away.
If you do start to feel pain in your feet, try icing the area for 15-20 minutes at a time. This can help reduce inflammation and pain.
You can also use Mod Pod Soothe to relieve any pain and inflammation. Soothe is a pain-relieving stick that contains 1000mg of CBD, arnica, eucalyptus, and lavender oils. This ultra-potent combination will reduce pain for a minimum of 4 hours. If you want effective pain relief without the CBD, Mod Pod Recover is a great option!
Call us if the pain persists!
While Mod Pod Soothe and Recover can offer short term pain relief throughout the day, it will not treat any underlying structural issues or injuries. So don't wait to make an appointment. Come see us if you are in constant pain. You can be pain free and back on your feet in no time with the use of laser therapy. The FDA-Cleared Class IV MLS Laser uses concentrated light energy to stimulate the body's own healing process to minimize pain, inflammation and promote healing. Most patients feel a 75% reduction in pain after just six laser treatments! And the best part is, laser therapy isn't just for your feet. We can perform laser therapy on your knees, back or anywhere else you experience pain.
Teachers, you have a lot on your plate. Allow us to take care of you so you can focus on molding the minds of the future. You can call the office at 859-264-1141 or schedule an appointment online.