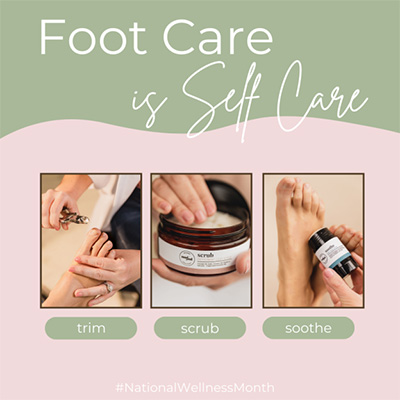 August is National Wellness Month, and what better way to celebrate than by taking care of your feet? Our feet are often the most neglected part of our bodies, yet they are the foundation of our bodies, supporting us day in and day out. Give your feet some love this month with a relaxing foot care treatments provided by Modern Podiatrist.
Start by melting all of your stress away with a long foot soak using Relax. Relax is a lemongrass infused Epsom salt that will soften your skin and nails, remove impurities, and detoxify your skin. During your soak, be sure to use Buff to give yourself a true spa experience and exfoliate your feet. For the ultimate relaxation experience, try getting a spa massager to elevate the experience.
After your soak, gently dry off your feet with a warm towel (the small details make all the difference) and trim your toenails using Mod Pod's Complete Pedicure Kit. Remember to trim along the natural curvature of the nail. For a quick nail trimming tutorial, check out this YouTube video of Dr. Freels.
Once the nails are properly trimmed, you can paint the toenails. Dr. Remedy's nail polish as antifungal properties and will be better for nails than regular nail polish, but remember not to leave nail polish on too long or you run the risk of developing toenail fungus. You can buy Dr. Remedy's nail polish online or stop by the front desk a choose from our array of colors.
If nail polish isn't for you, then we recommend applying Mod Pod Repair to your nails. Repair is an antifungal and thinning oil for nails. While this product is great for people with fungal nails, people with no fungus should still use it. Repair will restore dry cracked cuticles, strengthen, and lengthen your nails all while preventing fungal buildup. Any one can contract nail fungus, so it is always good to be proactive and prevent an infection from occurring if we can.
The mood-balancing mixture of Shea butter and grapefruit essential oil in Nourish lotion is the perfect combination to leaving your skin glowing and refreshed. Finish off your day of pampering with the soothing power of CBD. Mod Pod's CBD stick, Soothe, will erase all your aches and pains. And the best part is, you can use Soothe anywhere on the body that needs a little stress relief.
Finally, put on a pair of cozy socks, grab a glass of wine, and unwind! Trust us, your feet will thank you for taking the time to pamper them. Happy feet are healthy feet.
And remember, we are always here if you need anything. So, if you have any questions or concerns about your foot health, please contact the office at 859-264-1141 or schedule an appointment online.