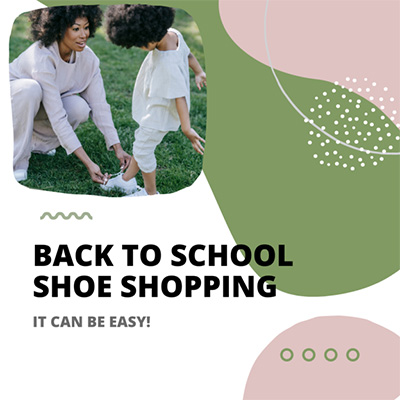 The school year is just around the corner, which means it's time to start thinking about back-to-school shopping. And while there are plenty of things on your child's list - from new clothes to school supplies - one of the most important items is a good pair of shoes.
After all, your child will be spending a lot of time on their feet during the school day, so it's important to make sure they have a comfortable and supportive pair of shoes. But with all the different styles and brands out there, it can be tough to know where to start.
Here are a few things to look for when shopping for back-to-school shoes for your child:
Durability
One of the most important things to look for in back-to-school shoes is durability. After all, you want a pair that will last through the entire school year (and beyond). Look for shoes made from high-quality materials like leather - these are more likely to stand up to wear and tear.
Support
Another important consideration is support. Your child's shoes should provide good arch support and cushioning, to help prevent foot pain. You should not be able to roll the shoe up into a burrito. If you can, it is too flexible and will not be supportive enough for recess or sports. If your child has flat feet, look for shoes with extra support or consider getting your child inserts. We have over-the-counter inserts called LittleSteps and Quadrasteps. Your child will love them because they will be getting the support they need. And you'll love them too because they are easy to clean and easy on the wallet, especially since kids grow out of everything.
If you child is already in orthotics or braces, make sure to find a shoe that will accommodate them. We highly recommend taking your orthotics or braces shopping with you to find the perfect shoe.
Breathability
It's also important to make sure your child's shoes are breathable. This will help prevent sweaty feet and foot odor. Look for shoes with mesh panels or other ventilation to keep feet cool and dry.
Mod Pod Fresh can also help prevent sweaty feet, making it great for young athletes. This deodorizing spray is specially formulated to fight odor causing bacteria. Just spritz the cooling peppermint solution directly onto your child's feet and into their shoes for long-lasting freshness.
Fit
One of the most crucial things when shoe shopping is to make sure you choose a pair of shoes that fit well. While it is tempting to put your younger child in their big brother's cast-off shoes, it's a bad idea. Most shoes mild to the foot that wears them based on the shape of the foot and the way the person walks. This could cause your young child discomfort, blisters, or worse, so avoid hand-me-downs.
While shopping, try on the shoes to make sure they're not too tight or too loose - and don't forget to have your child walk around in them to make sure they're comfortable. Leave a little growing room, but not too much as this can cause other problems.
Style
Of course, you also want your child to be stylish - after all, they'll be wearing these shoes every day! But it's important to strike a balance between style and comfort. Make sure the shoes you choose are comfortable and practical, but also stylish enough that your child will actually want to wear them.
Some of our favorite shoe brands that offer all of these features are New Balance, Saucony, Asics and Brooks. If you want some more guidance, you can check out Dr. Freels kids shoe review here.
With these tips in mind, you'll be able to find the perfect pair of back-to-school shoes for your child. If you have any questions about shoes, inserts, or sweaty feet, please call the office at 859-264-1141 or schedule an appointment online. We wish all of you a great school year!